Jack & I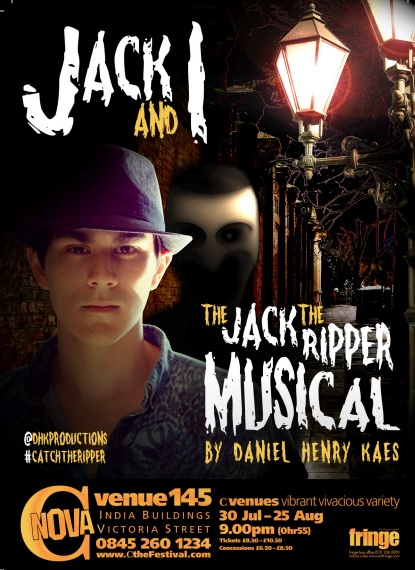 The Edinburgh Fringe Festival 2014 was a great success for Punchline, as we took up our second musical Jack & I: The Jack the Ripper Musical. Unexpectedly there was a lot of word-of-mouth about our show, even before we had begun the run, with a mention in The List's feature "Weird and Wonderful Musical Theatre Shows at the Festival", and selling out our final preview performance!
Thanks to our double award-nomination in the Derek Awards as well as extremely positive audience feedback on Twitter and the Edinburgh Fringe site, we gained consistently good audiences, and sold out our final week.
Our plan for 2015 is to build on our success and fantastic support from the public that has come from our previous two comedy musicals (Guido! and Jack & I) and showcase the final installment of the trilogy: Mata Hari, the story of the dancer accused of espionage in the Great War.
About
The hunt for Jack the Ripper is on!

Detective Inspector Abberline is faced with the seemingly impossible task of satisfying his boss, the media, the public, his wife, and his own peace of mind. Oh, and there's an equally impossible killer on the loose. Everyone is a suspect, everyone is a detective, but nobody is any the wiser. In the midst of the depravity of Victorian London, where nothing is what it seems to be, how do you find a needle in a haystack?

The second instalment of the historical anti-hero trilogy of comedy musicals from DhK Productions, Jack & I follows in the enormous success of Guido! at last year's Edinburgh Festival.


Press
TWO AWARD NOMINATIONS
'Best Fringe Show' and 'Best Male Vocalist' (Derek Awards 2014)

FEATURED IN THE LIST'S WEIRD AND WONDERFUL MUSICAL THEATRE SHOWS AT THE 2014 EDINBURGH FRINGE FESTIVAL
The Theatre Blog:
"[It is] difficult to ignore what promises to be one of the most original and engaging – and funny, above all funny – productions at the Fringe this year… With a witty script redolent of Mel Brooks and Python, catchy and impressive music… and a plot full of twists and shocks, make sure you "catch the Ripper" before the month is out!"
MittelLoge – Online opera magazine:
"Truly original… simply side-splitting… a very entertaining evening which could easily have gone on longer… definitely unbeatable."
EdCringe.com:
"The masters of what they do… popular to the point of 'cult' status"
"Rather genius. Theatrical and comedic brilliance in its purest, most unashamed form."
The New Current:
"stupidly effective… This is what the fringe is really about"
Ed Fringe Review:
"Extremely playful and witty… an incredibly amusing show with meta-theatrical undertones and bold, larger-than-life characters"
"Comedy in abundance… I left with a big grin on my face"
British Theatre Guide:
"A musical with great energy and lots of fun… bristling with potential"


Cast and Crew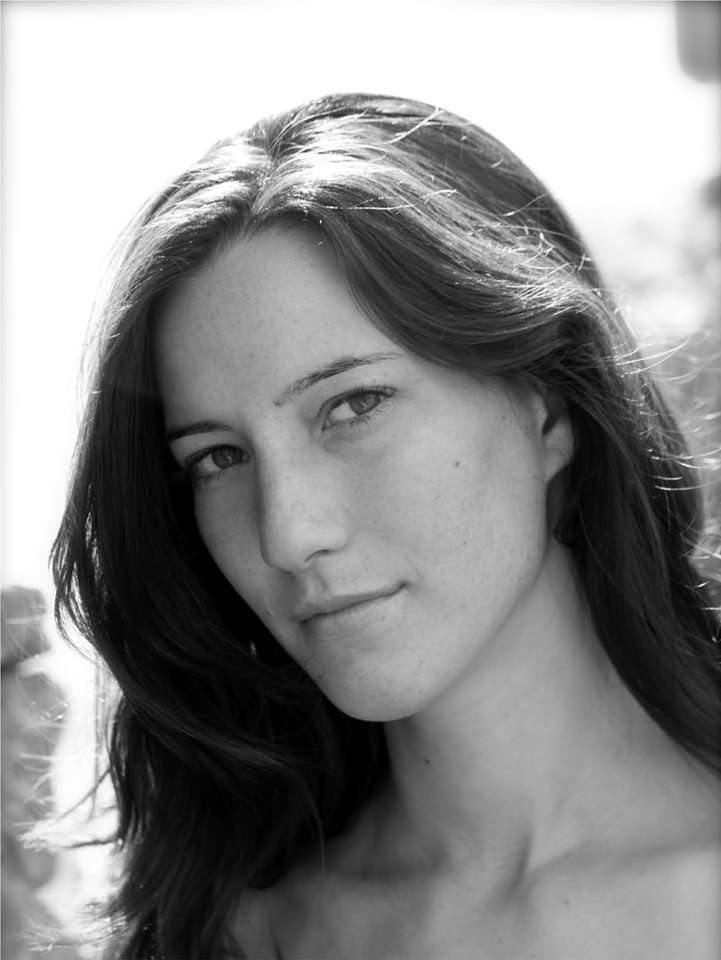 Sara Basso de Marc is Hungarian/Italian, and trained at The Lee Strasberg Theatre & Film Institute NY, and Cambridge School of Visual & Performing Arts. Recent credits include Molly in Animal Farm, Ophelia in Hamlet, Jesus in The 25th Annual Putnam County Spelling Bee, and Laura in The Glass Menagerie.
Lizzie Camps, from West Sussex, has just completed a foundation course in acting at Cambridge School of Visual & Performing Arts. While there she played the role of Thaisa in Pericles. She has also performed with the British Shakespeare Company.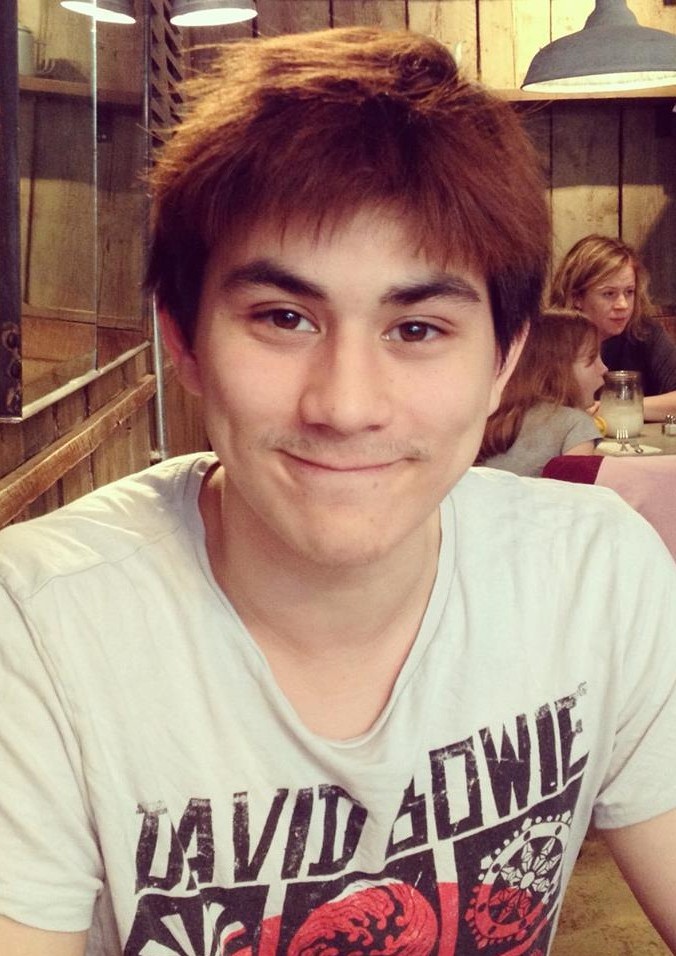 Chris Chalmers is a Hong Kong-born American dude. After being involved in last year's crazy production of Guido! he returns this year geared up and proud to take on the role of Detective Abberline. Chris currently attends the musical theatre course at ArtsEd.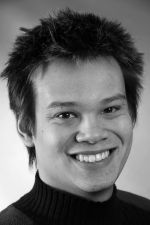 Matt Lim graduated from Cambridge in 2012 and since moving to London has enjoyed screen and stage success around the UK. This is his fourth Edinburgh Fringe festival. Recent stage credits include The Butterfly Lovers (Blue Elephant Theatre), It's Complicated (Tristan Bates Theatre) andWay Back (Brighton Fringe, Pleasance Theatre).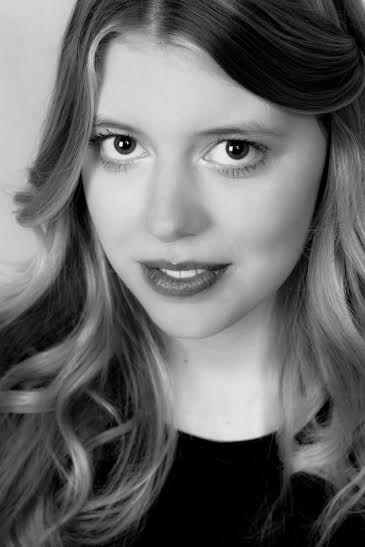 Christabel Clark (director) is a former member of the National Youth Theatre and is experienced in a wide range of genres. Having graduated from Cambridge University in 2012, she followed an Acting for Stage course at Cambridge School of Visual and Performing Arts and is currently studying at Drama Centre London. She directed last year's musical Guido!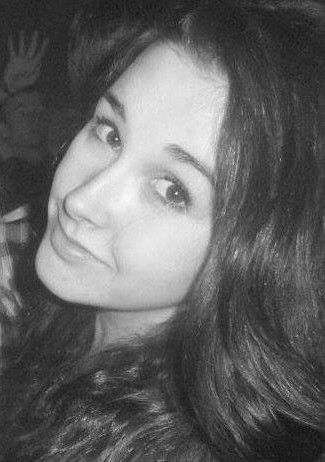 Lex Ambrose Ley (producer) has worked at Forge TV as head of features and as a production runner for various companies including VH-1 and MTV. She has also worked as a production assistant and front of house at C Venues and has had various technical and stage management roles at the Tower Theatre Company.
Daniël Henry Kaes (writer)
Benjamin Cox and David Ferris (additional music/orchestration)
Shaun McCreery (technical director)
Ella Smith (publicist)